NewK with Formerly Headlights: All the Things We Aren't
NewK with Formerly Headlights: All the Things We Aren't
After 33 years of sitting on the shelf, NewK has released: NewK with Formerly Headlights: All the Things We Aren't.  Recorded in 1986, it is now available both physically & digitally, on CD Baby!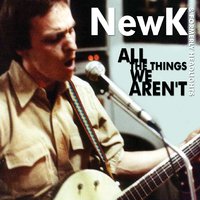 This session features 13 songs written specifically for a four piece rock band. The primary influences on our sound and material were: Jack Bruce; Cheap Trick; CSN&Y; Little Feat; Tom Petty & The Heartbreakers; Todd Rundgren; Steely Dan; XTC; and Warren Zevon.
Full tracks are available for preview on CD Baby or you can check them out on Youtube.